Lifestyle Residencia is a high-rise building that is being constructed in Islamabad the capital of Pakistan
by the government of Pakistan.
The housing authority in that area is dedicated to providing apartments
that would facilitate government officials with the most modern facilities that are available for an
apartment but this is where there might a trend changer in the market.
Even though there might be people in this market that would say that this high-rise building might be
the first project that could assist government employees with their temporary stay Lifestyle Residency
can suffer from some amount of competition because of serviced apartments in Pakistan and
how rapidly they are growing.
Why are serviced apartment projects growing in Pakistan?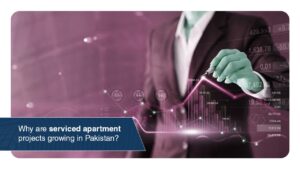 Pakistan is home to the most vigorous real estate market due to how the ups and downs rapidly
change according to the trend of the economic situation. The leading trendsetter in this journey
is the market of Bahria Town.
Karachi which is the economic hub of Pakistan has always attracted the interest of people from
around the globe such as multinational companies that are planning to launch in Pakistan.
Due to the rise in the high prices of hotel stays there is a niche in the market that way begging
for some attention such as having a temporary stay in a lavish apartment without the extra
charges that people are encountering. This is where the concept of serviced apartments started
to grow in Pakistan.
Bahria Town Karachi which is considered the city of lights within the city of lights has captured a
great amount of attention due to the rapid growth of investments that it has collected but
another point of attention is the serviced apartment project that has been launched by
California Real Estate & Builders under the name of BT Serviced Apartments.
Wondering why BT Serviced Apartments can be better than Lifestyle Residency?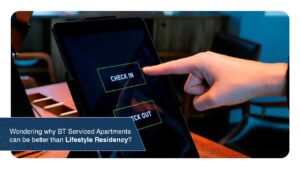 .Even though Islamabad the capital city of Pakistan has its importance and as Lifestyle Residency
is located some kilometers from the airport that does not mean that BT Serviced Apartment in
Karachi can be ignored.
Karachi is the economic hub of Pakistan which means that all the multinational companies
would be looking forward invest and grow their business in this city and for their official visit
they would need a place to stay where they could get facilities that can be found overseas and
that is exactly what BT serviced apartment provides.
BT serviced apartment has different categories such as leisure serviced apartments and
business serviced apartment as both of their genres but the focus is to provide a temporary
stay to people for a home away from at a price that is comparatively cheaper than hotels in
Pakistan with much more facilities.
Why is Bahria Town Karachi perfect for a project like Lifestyle Residency?
Lifestyle Residency is located in Islamabad and even though the project is perfectly located close to
Islamabad's international airport but that does not mean that a project like that cannot be available in a
city like Karachi. A project like Bahria Town Karachi can be a perfect location for a high-rise building like
Lifestyle Residency that provides temporary facilities to government officials.
BT Serviced Apartments in Bahria Town Karachi is perfect for such temporary stays and the
people who own such apartments can earn rent from these stays with modern digital
mechanisms used to make your apartment better and modern.